WHO
---
e-commerce
and express transport actors.
WHAT
---
The H7 declaration, DELTA H7 in France,
IDMS H7 in Belgique.
HOW
---
EDI Electronic data interchange
WEB application – SaaS mode
THE DECLARATION H7 WITH EXPRESS via conex™
EXPRESS via conex™ is a WEB application offered in SaaS mode. It is dedicated to the management of customs data for the European H7 declaration required in the context of distance sales and e-commerce of goods imported from third countries.
It manages simultaneously the large volumes of your data and the instant release of your goods upon their arrival in the territory of the European Union.
EXPRESS via conex™ prepares your DELTA H7 (FR) declarations and ensures electronic exchanges with customs administration servers. Mandatory for all imports of goods into the EU with an intrinsic value of less than or equal to 150 euros, the DELTA H7 declaration requires an ultra-reduced dataset but is compulsory and obviously subject to customs control. Have the EXPRESS via conex™ reflex for your peace of mind!
FOR ALL VOLUME SIZES
EXPRESS via conex™ provides an Electronic Data Interchange (EDI) interface to interconnect your information systems for the automatic integration of your data. This makes it a solution perfectly suited to the management of DELTA H7 customs data in the context of e-commerce, often synonymous with very large volumes to be processed. However, EXPRESS via conex™ allows you to initiate, correct and/or complete your declarations manually, thus guaranteeing great flexibility of use.
SECURE EDI EXCHANGES
Secure data exchanges with customs systems are no longer a secret to us. EXPRESS via conex™ ensures the exchange of messages for your H7 customs declarations with the electronic customs platform DELTA H7. Its simulated dashboard offers you real-time declaration notifications and status in strict compliance with EDI communication protocols with customs platforms.

ONE-STOP-SHOP
A solution for DELTA H7 (FR) and IDMS H7 (BE) declarations. Eventually, other countries will be added to our solution.

REGULATORY COMPLIANCE
H7 data coherence controls.

DATA INTEGRITY
Thanks to the data transfer, thus avoiding manual entry.
CERTIFIED SOLUTION
DGDDI (French Customs) certification for regulatory compliance of the EXPRESS via conex™ and EDI data exchanges with the DELTA H7 platform.
IN ADDITION TO EXPRESS via conex™ !
TRACEABILITY, INTEGRITY, DURABILITY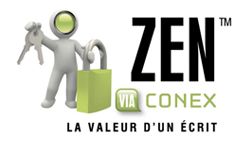 ZEN via conex™ is a platform that replicates all customs declaration data and provides it with probative force. It offers total information availability: consultation 24 hours a day, 7 days a week. Users can query their archives online, print them and reproduce them in the event of any litigation.