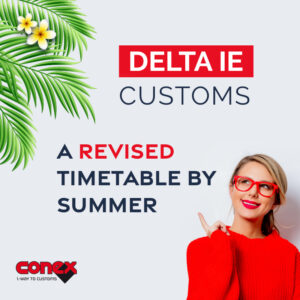 DELTA IE – H1 B1 DECLARATION, the new dress code for your customs data
Since its implementation in 2016, the Union Customs Code (UCC) has had many changes in store for us with regards to the overhaul of customs IT systems. For almost 40 years CONEX has been working to facilitate European customs processes and to harmonise customs data formats… DELTA IE (I for Import and E for Export) will gradually replace DELTA G and X. DELTA IE is just an additional step for which we are prepared in our objective of serving the best interests of our customers.
IT'S GOODBYE TO THE CHERISHED SAD BOXES!
Those familiar with the current customs declaration will have to abandon the reference to the SAD boxes and give way to a new sequencing of +/- 80 data elements through the H1 import customs declaration and the B1 export customs declaration.
WHAT REALLY CHANGES?
New codifications, a new organisation but the REAL change is hidden in the declarative message. And trust us, we know how to do that!
The structure of the electronic message of the H1 declaration will be perfectly respected in our customs via conex™ software.
ADVANTAGES FOR OUR CUSTOMERS
No additional cost!


The evolution towards DELTA IE is no exception to the rule that we set for ourselves at CONEX... taking charge of customs regulatory changes to guarantee the sustainability of your investment without surprises!

work habits do not change.

Everyone keeps their usual environment, DELTA IEdoes not mean a new version of the software, rather an application update.
DELTA IE

 IMPORT 2023
At the end of April 2023

,
Customs announced the postponement of the start of the DELTA I/E Import experimentation phase.
On May 24, the DGDDI announced on its website that the revised timetable for the implementation of the DELTA I/E import component will be made available to operators by summer 2023.
Find out more on our customs information site
edouane.com
DELTA IE

EXPORT 2024
September 2024:

Start of the transition period with the aim of making the change on 1st December 2024
 31/12/2024: Deadline for changeover
---