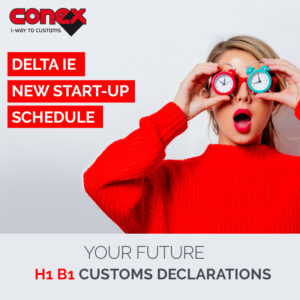 DELTA IE – H1 B1 DECLARATION, the new dress code for your customs data
Since its implementation in 2016, the Union Customs Code (UCC) has had many changes in store for us with regards to the overhaul of customs IT systems. For almost 40 years CONEX has been working to facilitate European customs processes and to harmonise customs data formats… DELTA IE (I for Import and E for Export) will gradually replace DELTA G and X. DELTA IE is just an additional step for which we are prepared in our objective of serving the best interests of our customers.
IT'S GOODBYE TO THE CHERISHED SAD BOXES!
Those familiar with the current customs declaration will have to abandon the reference to the SAD boxes and give way to a new sequencing of +/- 80 data elements through the H1 import customs declaration and the B1 export customs declaration.
THE DATA ELEMENT, THE NEW BLACK GOLD
No surprise, the big eye-opener of the H1 declaration in the DELTA IE system is undoubtedly the importance of the data element. The existing data will be divided or modified, and new ones will see the light of day. With DELTA IE, we will soon see thematic data groups (or DATA ELEMENTS) appear, such as:
GROUP 11 MESSAGE INFORMATION (Type of declaration -IM CO, Customs procedure etc.)
GROUPE 12 DOCUMENTS-CERTIFICATES AUTHORISATIONS (Previous documents etc.)
GROUPE 13 PARTIES (importer etc.)
WHAT REALLY CHANGES?
New codifications, a new organisation but the REAL change is hidden in the declarative message. And trust us, we know how to do that!
The structure of the electronic message of the H1 declaration will be perfectly respected in our customs via conex™ software.
A STAGGERED SCHEDULE FOR DELTA IMPORT
End of December 2022 to end of March 2023
Launch of the "pilot" version of DELTA IE with a reduced scope of functionality.
Submission of validated import declarations (DEC, DS/DC) in DELTA IE,
Processing (life cycle, validation, completion)
Invalidation.
From 31st March to 1st July 2023
DELTA IE project generalisation period with the scope of functionalities completed by:
Submission of pre-lodged import declarations, EIDR and Special Procedures in DELTA IE.
Cancellation of import declarations in the DELTA IE system.
1st July 2023
DELTA IE will be mandatory for the H1 import declaration. It will no longer be possible to submit an import customs declaration directly in DELTA G/X.
DELTA G import and DELTA X import can still be used until 30th June 2024 for rectification and invalidation requestions.
1st July 2024
We forget about DELTA G import and DELTA X import completely!
and all the import customs operations will be processed with the
DELTA IE import customs system.
November 2024
Customs operations within the framework of EU centralised clearance for import.
AND… FOR DELTA IE EXPORT?
October 2023
Gradual start-up of DELTA IE Export.
November 2024… and later
Customs operations within the framework of EU centralised clearance for export
Transit and Excise – AES-NCTS and AES-EMCS interconnection EXS submission